We welcome you to enjoy our newly renovated clinic and sponsored by The Barkery who is generously donating Christmas candy cane cookies for those pups participating in our Santa Paws pet pics!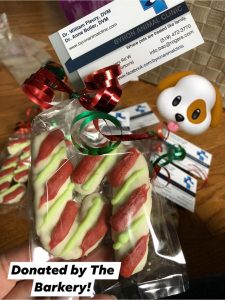 Come and enjoy the hot chocolate bar, coffee, and timbits. Refreshments will be donated by Tim Hortons in Byron.
Load up on our Holiday Pet Gifts, and pet food before the holidays. All gifts are recommended and approved by Dr. Will and a portion of the proceeds from ALL sales during our open house will be donated to the Humane Society London & Middlesex.
In fact, for every purchase over $100 at the open house, you'll receive a stamp towards your Loyalty Rewards!
Santa Paws will be taking pictures with pets, thanks to Real Focused Photography. All pets are welcome and our canine pups can enjoy a candy cane cookie freshly baked by The Barkery! Santa services donated by Awesome Paws Pet Care.
Come by to say hi to Dr. Will and help us reach out $500 goal for the Humane Society.